From Baby Steps at HiFi Buys to HiFi Industry Powerhouse: How Kathleen Thomas of ELAC Shines in a Male-Dominated Business
Our first visit with Kathleen Thomas was at the HiFi Buys grand opening. We talked about what it was like to be the "HiFi Buys Baby" and virtually grow up in the industry. Today, we're talking about progressive new products from ELAC and what it means to be part of our "Sound Advice: Women in Business" networking event on October 13.
As a Sales Manager for ELAC America, Kathleen helps to develop the dealer base and educate them (and their customers) about ELAC products. She says, "we're a small team—ELAC America was established a little over a year ago, and started shipping product last October. For a young company, we are fortunate to have the heritage of ELAC Germany, which is celebrating its 90th year this year. The North American team is very energetic and progressive about products we're developing. We are keenly focused on products that are clearly needed in the market and expand the accessibility for more people to enjoy their music and movies in a way they thought they never could."
What's ELAC's specialty? First, here's a bit about their history, which began in Germany 90 years ago. Originally a manufacturer of precision sonar equipment,  the focus shifted to turntables and hi-fi electronics in the late 1940's. ELAC was most well-known for the Miracord turntable and was an innovator in phono cartridge design. In the 1980's when turntable sales declined and CD sales rose, the company shifted focus to loudspeakers. ELAC and innovation go hand-in-hand, and in 1993, ELAC introduced the JET folded-ribbon tweeter. With an expanded frequency response up to 35 kHz, the JET tweeter proved that a driver whose response goes beyond the limits of human hearing sounds better over its entire range. The JET has been continually refined and is featured today in both home and automotive applications.
ELAC America was created in 2015 to invigorate the American market and grow the ELAC brand into the future. The debut product from ELAC America was a series of speakers aptly named "Debut" and was soon followed up with the step-up UniFi series. According to Kathleen, "our speakers are very sonically accessible, fun, musical, speakers at unbelievable price points. The rightfully renowned speaker designer  Andrew Jones, formerly of KEF and TAD , really loves shaking up the industry and changing the performance expectations of speakers at real-world price points."  What type of customer is attracted to ELAC speakers? Kathleen said, "The typical customer is used to listening to music in a pair of headphones or their car, and trying to translate that experience into more traditional hi-fi speakers. Often, this experience can be a bit of a letdown-no bass, no fun! ELAC wants to elevate the experience for customers at every price point. "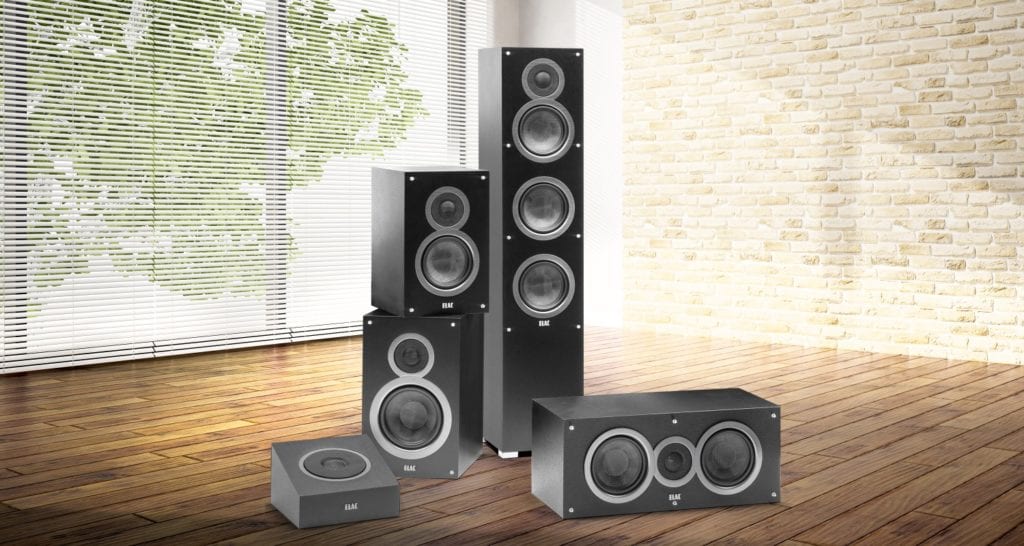 ELAC's innovation has been recognized by tech sites like About.com's "About Tech" site who said the Debut DF-5 model was "best overall floor speakers to buy in 2016." CNET deemed the UniFi UF-5 their favorite speaker under $1000. They are also recognized in the high-end audio world, making the recommended lists of both Stereophile and The Absolute Sound. The list of positive reviews is nearly endless and keep coming!
As they continue to positively disrupt and make high performance speakers more accessible, ELAC is now once again expanding into electronics. The first of many innovative products to come, the Discovery Music Server is a source for the modern world. Discovery is the first music server that has Roon software embedded. Roon is remarkable in that it artfully organizes your music, whether connected on a hard drive in its USB port, on a networked computer or hard drive, or on a streaming service like Tidal®. It then collects an extraordinary amount of detailed information (known as meta-data) about your music, from biographies to lyrics to upcoming local concerts, giving the listener an incredibly rich experience.
Kathleen says, "The Discovery Music Center is incredibly bulletproof and easy to set up, which is often a challenge for these sorts of devices. It sets up in a couple of minutes, but as you explore your music, it is easy to spend hours listening and exploring. You can take a single favorite song, and by tapping on influential artists, or perusing the interactive song credits, find hundred of new songs you've never heard before . It's a great exploratory tool. You can also easily have this experience throughout your house with both wired and wireless zones, oftentimes using devices you may already have! All of it is controlled using a smart phone or tablet and the Roon app, so it is very intuitive, comfortable and fun."
Kathleen is excited to bring the ELAC Debut and UniFi speakers and the Discovery Music Server into the store where she got her start—ours! She's convinced that dealers like us are great at finding ways to bring in new customers and great products will give the buyer more than what they paid for in the long run. That's why she's especially excited about being on the panel at our October 13th networking event, "Sound Advice: Women in Business," where three generations of businesswomen will share their expertise and insight. "I'm ready to bring more women into the Hi-Fi Club," Kathleen laughs.
Along with Kathleen, the panelists include Melanie Romanaux, CEO of Somedia Solutions, social media and marketing company; and Sue Groszkiewicz, a strategic problem-solver and CEO of Accountable for Change. The moderator and emcee of the event will be Alexandra Tirado, founder and CEO of Fortuna Holdings International. The evening kicks off at 6pm at our Buckhead store with networking and product demos—you'll get to try out ELAC's Discovery Music Center—with the panelists getting started at 7pm. There will be wine, food, and lots of extras, too! Stay tuned for more details on our Facebook page.