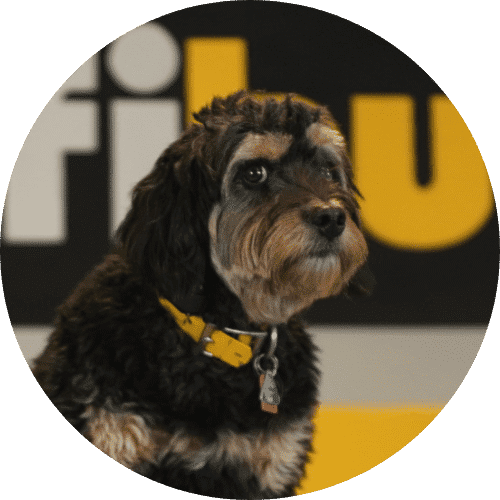 "I love what I do! I get to listen to music all day, everybody pets me, and I get to take walks all day so that I don't do something wrong on the carpet of the store."
HiFi serves customers in the role of Good Boy. In this position, he is responsible for greeting new customers, sniffing to ensure everyone is on the level, and following the commands of Sit, Stay, Rollover, and Shake. He is also called upon quite frequently to wear silly outfits and pose for fun photos to post on social media to rave reviews. He brings with him an education that was given him through training by his owner and significant experience engaging with everyone who can't resist petting him. He was also recently honored and awarded a new collar from the family for a job well done being housebroken.
This mini Bernedoodle, originally from Greeneville, SC, now calls Buckhead home with his owner and family. When not hard at work at the store, HiFi can be found going for leisurely walks with his humans, chasing anything, begging for treats, and trying his best to sneak out the door.
Little Known Fact:
HiFi has the greatest mom and dad
Hidden Talent:
Chasing his tail
Making anyone fall in love with him
Favorites:
Color: Gray
Food: Pig ears
Are you a cat person or a dog person?
Does this really require an answer?
If given the chance to travel ANYWHERE, where would you go?